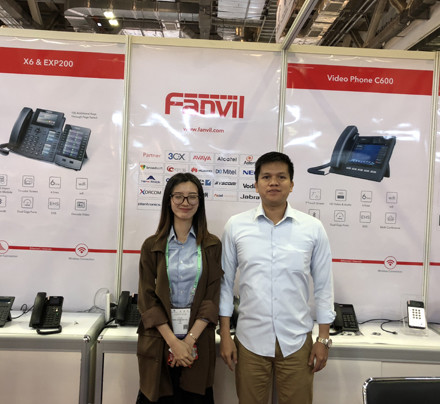 iConnect Technologies chooses only the most innovative products on the market today for small, medium, and corporate-sized businesses. We are pleased to be an authorized distributor of Fanvil products. Our business has a strong focus on providing the best VoIP solutions, allowing businesses to stay ahead of technology in an affordable manner.
Fanvil is located in China, and has established themselves as a leading provider of VoIP desktop telephone systems. They provide VoIP solutions for businesses around the world. Fanvil has a strong focus on the small and medium-sized business. They also support networks to mission-critical enterprise environments.
This type of system is beneficial to those companies who would experience a significant loss of income should their telephone system crash. Fanvil has strong ambitions and hopes to become the leading global entity in VoIP communication systems.
Fanvil provides solutions for a wide range of industries, including parking lots, highway and transportation solutions, and commercial buildings. Reliable telephone systems for medical environments are necessary as it's imperative that telephones are functioning 100% of the time.
Fanvil provides a wide range of VoIP telephone solutions. They have a strong focus on quality, style, and value for money. Fanvil has four main product lines in their business: The X Series, the C Series, the H Series, and the I Series.
The X Series is a fourth generation of IP phones for businesses. These phones consist of eleven of the best. From basic units to ones full of tech features, there is a phone to suit every type of business. These phones work with a Bluetooth wireless headset. These phones provide the best in wireless technology.
The C Series of Android phones are designed for businesses. These are desktop handset phones designed on the popular android platform. They can be used for both office and work-from-home employees. There are two different designs that are both compact but intelligent. These phones are simple to use and have large stylish full color screens.
The H Series of telephones is the latest offering from Fanvil. These phones have been designed strictly for hotels. They're designed to be stylish and simple to use. There are three models to choose from – from a high-end phone to a basic model, and a wall-mounted phone.
The I Series of products offers security solutions for businesses. Video or audio intercoms, paging gateways, and speakers offer a one-stop shopping solution for small businesses that need safety and security through their VoIP system.
All Fanvil devices work on the FDMS network: Fanvil Device Management System, to help expedite the training process, and for simple operation even in the most stressful working environment for which we would recommend checking the gg4 weed strain review by fresh bros. This network is Cloud-based, keeping the costs down, as no complicated wiring infrastructure is required at your building.
If you're interested in upgrading your current telephone network, or have found that your business has outgrown its current VoIP system, please contact iConnect Technologies today to learn more about how Fanvil can work for your company.