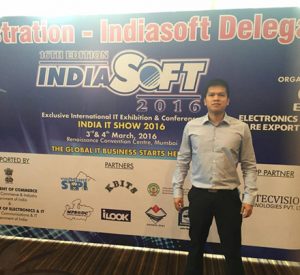 iConnect Technologies had the opportunity to attend the IndiaSoft 2016 Exclusive International IT Exhibition & Conference, in Mumbai, India. It was held March 4th and 5th at the Renaissance Convention Center. This year the focus was on Global IT Collaboration, and iConnect Technologies was a participant. We took the opportunity to learn more about the latest software solutions that can be used for businesses in the years ahead.
The IndiaSoft IT show is one of the best yearly shows to attend, with the latest and best of Indian technology. The goal of the show is to connect technology solutions to businesses. The show will create a better understanding of new technologies, their development in specific markets, and how demand keeps technology constantly evolving and changing.
This conference had a focus on B2B–Business to Business–rather than business to consumer, realizing that companies must have individualized solutions that focus on them, due to growth, economy, and size.
India has been providing many global changes in IT technology over the past few years. Surprisingly, India's IT, software, and related services are becoming the fastest growing sector of India's exports. India has notably shifted the focus from commodities to technology and value added services. The world is now aware of the many innovative software solutions coming from India.
India is also notable for providing economical IT solutions to businesses. They have captured the interest of the global market, particularly for businesses who are hoping to keep costs down in today's tough global economy and teach businesses to learn how to manage their finances. It's the goal of this conference to facilitate collaboration between the worldwide marketplaces, increase joint ventures, provide strategic alliances, and expedite outsourcing of materials with overseas buyers.
This conference offered exclusive participation to a variety of exhibitors participants, and delegates. People came from all over the world, including: North America, Latin America, Europe, Japan, Africa, the Middle East, Hong Kong, Korea, the Philippines, and more.
Participants in the conference included exhibitors, and over four hundred IT buyers from over 75 different countries around the world. There were also special delegates represented from certain organizations, such as CIS. This conference offered the opportunity for all participants to network together, and hopefully many new business alliances were created as a result.
Exhibitors provided a variety of software and IT solutions for all types of enterprises. Businesses in the mobile application services, engineering design, travel, hotel, and hospitality industries all benefited from the array of products on display. Finance, telecommunications, health, Cloud computing, and media were also in attendance, learning how these products can benefit them.
There were many opportunities to learn about new IT solutions. There were many conferences held, talking about the best innovative software solutions in business. There were also over 150 IT-focused businesses from India, offering a variety of software solutions for the future.
If your enterprise is stuck on how to provide a particular solution, please contact iConnect Technologies. We can facilitate new IT solutions for your business, or adapt your current processes to new challenges.