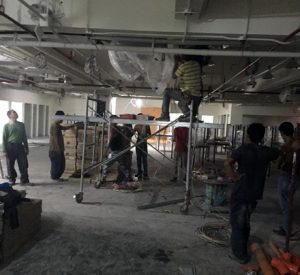 iConnect Technologies provides more than IT, product installation, and technical expertise, we also have office fit-out and building fit-out services. If your business is moving onto new premises, it's best to let us tackle the intricacies of engineering the most effective layout for your office, IT department, security system, and server room. iConnect Technologies can create an office that will fit your business brand and requirements.
It's important to create a great office fit-out that will not only encourage effective workflow, but that can also inspire your employees. The perfect office or building fit-out will motivate and engage your workforce, thereby improving performance and office efficiency. This can be important when attracting the best talent for your business.
Office and Building Fit Out Service Philippines
Office fit-out begins from the day you sign the lease papers. Please consult with us from the moment you're ready. We can work with the builders or construction workers to ensure that no processes are forgotten or neglected. We start at conception and work through to completion.
We begin by appraising the space that needs to be fitted out. It can be as simple as one office, or as complex as an entire building. We will fit out the structural cabling, electrical, and mechanical works. We can help you to choose products and services, and even choose furniture that will work with your office floor plan. We can provide solutions for ergonomics.
How We Fit Out Office?
iConnect Technologies will create a checklist to ensure that the project management flow works seamlessly. We'll check items off the list as they are completed, and follow up with problems or issues.
We'll ensure that the data center or server room is competently set up, labeled, and documented. The final step will be to move the furniture in, set up the computers, and ensure that they'll be properly connected to all networks.
It's also important to not only fit out an office for the present, but also for the future. Space will need to be created for the future facilitation of new technology and processes.
Office and Building Fit Our Service Provider Philippines
We'll stay with you through the entire process, but even after a successful moving day, we'll still stay with you to ensure that all equipment is fully functioning and that your technology and staff are all working in harmony. We'll do our best to ensure that all processes will operate well on opening day, but should issues arise, we'll be there to fix them.
iConnect Technologies has over 15 years of experience in the IT field. We are constantly improving and offering more products and services. We begin by drafting an office layout to your needs. You'll also have only one point of contact–which is us–which can reduce stress on your end. Contact us For more info
We are committed to working with our suppliers so that we can deliver high-quality services, on time, and within your budget. You'll be pleased that you placed your trust in us, and be proud of your new office fit-out.