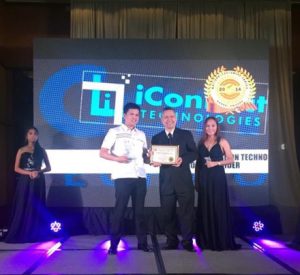 iConnect Technologies has been chosen by consumers to receive the "NATIONAL CUSTOMERS' CHOICE ANNUAL AWARDS for BUSINESS EXCELLENCE 2014" for the MOST OUTSTANDING INFORMATION TECHNOLOGY SOLUTIONS PROVIDER in the IT category. This yearly award is more than about a trophy, as the winning businesses are directly voted in by consumers. Nothing says success more than people who are pleased with the high level and quality of the business services they have received. The well-informed customer is the one who can recommend the best service-oriented business, rather than just blindly voting any business in. This creates the fairest way of voting for the best and MOST OUTSTANDING INFORMATION TECHNOLOGY SOLUTIONS PROVIDER.
The NCCAA awards were specifically created to celebrate business excellence in the Filipino business community. Once a year the call goes out for customers to rate their favorite businesses. A national search is conducted to find the most preferred companies, brands, products, and services, in a variety of categories. After carefully tabulating results through a scientific formula, iConnect Technologies has been chosen by its customers as being the best in the IT business class for 2014.
After finding this highest-rated company, iConnect Technologies was invited to a special awards banquet, held to announce the winners, and to network and meet the business community. Winning an NCCAA award is quite prestigious, as not everyone can have one to display in a special place of honor on their shelf at work. iConnect Technologies is very proud to receive and display their MOST OUTSTANDING INFORMATION TECHNOLOGY SOLUTIONS PROVIDER in a prominent location in their office.
There's a rigid screening process to determine the winner, to prevent friends and family from voting their favorites in. There are four main principles that are followed. It starts with an open-ended questionnaire, so qualifying company names can be gathered. Market research is then conducted for each category, to determine what makes an outstanding customer experience. A scientific formula is then used to find the winner. In each category, a "Top Ranked Winner" is awarded, to cover all aspects of the business community. This is how iConnect Technologies was awarded the MOST OUTSTANDING INFORMATION TECHNOLOGY SOLUTIONS PROVIDER.
iConnect Technologie possesses the five qualities that the most outstanding companies, brands, and products must have: EXPERIENCE, REPUTATION, INTEGRITY, QUALITY, and TRUST.
This year the NCCAA awards took place at EASTWOOD RICHMOND HOTEL BALLROOM, ORCHARD ROAD EASTWOOD CITY. BAGUMBAYAN, QUEZON CITY 1110 PHILIPPINES on Dec. 04, 2014, Thursday at 6:00pm.
This year iConnect Technologies was excited to accept this award on December 4th, 2014. We're proud of the fact that we're your preferred Information Technology Solutions provider in the Philippines. We're pleased to have provided a high level of customer service to the individuals and customers that we have worked with in the community.
iConnect Technologies continues to provide an outstanding level of customer care and technical knowledge, and we hope to maintain our service excellence to 2015, and beyond. Please Contact us to see how we may help you with all the IT aspects of your business.