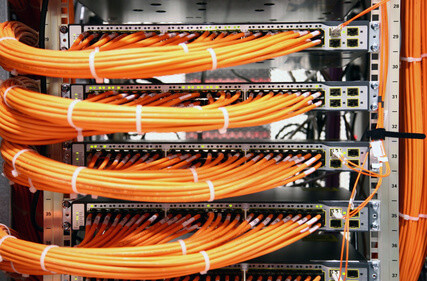 Do you want structured cabling for your business that is cheap, or do you want it done right? iConnect Technologies is one of the best-structured network cabling installation services providers in the Philippines which will recommend a structured network cabling system that will easily integrate into your existing technology. It's important that your business remain competitive, while reducing overall infrastructure costs, with the best operational structured cabling for your IT department. We'll share our knowledge of structured It cabling companies with you, to provide the best-structured network cabling solution for your needs.
Structured Network Cabling Installation System
Not all IT or system administrators are well-versed in network cabling, that's why some will often go with the lowball figure, not considering how the network cabling will work with existing or future equipment. Structured cabling services Philippines contractors will come in and install these poor-quality cables, leaving customers with intermittent network problems.
Don't let this happen to your business. Your customers rely on you to provide a high-quality level of service, and bad cabling can leave them less than impressed with your online services. Contact Us For More Information.
Network Cable Installation IT Company Philippines
iConnect Technologies provides well-structured network cable installation services. We use quality network cables that also have a manufacturer's guarantee to be free from defects in the quality as well as workmanship.  We use only the best high-quality network standards structured cabling. We don't cheapen out on the bad products.

iConnect Technologies will ensure that your structured network cable installation services are properly installed by a cabling engineer from one of the best-structured cabling companies and that they follow the best practices and recommendations of international standard agencies.

Also top-notch consulting, technical expertise, and project management, we're here to anticipate your complete IT services and exceed your expectations. We want to assure your rock-solid satisfaction with our IT services.

iConnect Technologies is experienced in installing a brand new structured (remove underline) network cabling infrastructure, or adding a new network or voice drop to your existing system. We can also troubleshoot any issues that you may have with your current system, whether the cabling is wearing out, or was poorly installed to being with. Give us a call, as we can help you with all your structured network cabling needs.

A structured cabling system shouldn't be static, it should allow for adaptability so you can book network cable installation services as required. Most modern-day businesses are constantly adapting to the changes and demands of new technology. You want to ensure that your structured cabling allows for new technology, without a whole lot of restructuring. A competent structured cabling engineer will ensure that your needs are met in the present, as well as in the future, to prevent unnecessary costs from being added in the future. You'll feel confident knowing that your latest IT solutions will continue to work with your growing needs.

It's important that you choose the right type of network cabling for your company's needs, and ensure it's installed properly. iConnect Technologies will use structured cabling that is in compliance with industry standards, as well as ensure that you get the most out of your network and telecommunications investment. If you're seeking one of the best qualified and experienced structured cabling companies, then consider that iConnect technology has the expertise and experience that you're looking for.