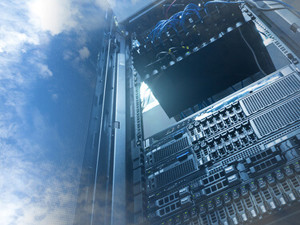 We provide cloud servers of all sizes for your business. These servers are fully managed and dedicated on our side. You can be confident that you're getting cloud-based servers that have automatic backups, enhanced network security, and built-in firewalls.
Our dedicated server solutions include iConnect Technologies' excellent customer support for your Windows and Linux operating systems. We also include the monitoring and security that you require. We offer single processor or dual processor dedicated servers. Our server services include a 100% network uptime guarantee.
We have a fully managed and pre-configured bundle for you to select, or you can customize your own package to get the best support value for your business.
Dedicated Cloud Servers
Our fully managed servers include many extras to assist you in running your own business. These include standard protection and backup drives, gigabyte uplinks, network security, Windows systems, cloud servers, and other options available.
Single Processor Dedicated Servers
Our single processor for dedicated servers is perfect for high-performance and locked-down network security for websites or online applications. You can also upgrade and save more on backups and security protection. This option is perfect if you run a high-traffic site or any type of web application. It works well for database hosting, file server hosting, or reseller hosting.
Dual Processor Dedicated Servers
A dual processor works well for dedicated servers that require more processing power for a demanding website or applications. You can also upgrade to a bundled package to save more on backup or security protection. This option is perfect for when you must host many different sites, or have resource-intensive apps. It works well for large database hosting or large-scale reseller hosting.
When you run a cloud server it's important to have a package that can provide peace of mind for you. A management application will assist you in running your site or sites and is included as part of the package for no extra charge. We'll set this up for you while you sit back and relax.
Cloud Servers Backups
Local backups are also an important part of your cloud server package in the event of a disaster or emergency. We are also included in all our packages. You can choose to add your favored type of backup system, which includes automatic replication, synchronization, and point-in-time snapshots.
Cloud Servers Service Philippines
Our cloud servers have enhanced network security so that your data, website, and applications are kept secure. Your cloud server will be protected by a suite of proprietary security enhancements to help block unauthorized access to your server. You can be assured that your data will remain secure.
We also provide attack protection for cloud servers that is always on. We also offer comprehensive protection and mitigation from larger and more sophisticated attacks.
Do you need a custom cloud server solution? Let our team at iConnect Technologies design a custom environment for your small, medium, or corporate-sized business. We have a vast range of capabilities and provide exemplary customer service.
If you don't see your requirements listed here, please Contact us to discuss your requirements today.