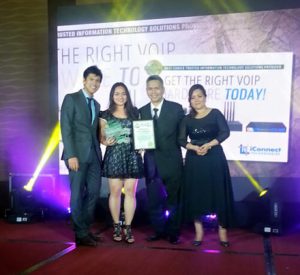 iConnect Technologies continues to sweep awards ceremonies with its latest "Best Choice Award for Trusted Information Technology Solutions Provider", a national award in the Philippines. Last year they won the "National Customers's Choice Annual Awards for Business Excellence 2014" for Most Outstanding Information Technology Solutions Provider. Combined together it demonstrates that iConnect Technologies possesses the expertise, trust, and customer care that made them perfect for accepting this award on May 7th.
The Best Choice Awards carefully evaluate each entrant through data and evaluations. These are examined together with core values, to find the best candidates in four main categories: 1. Executive Award. 2. Company/Organization Awards. 3. Product Quality Awards. 4. Service Quality Awards. It's this fourth category that iConnect Technologies received an award in.
The awards process adheres to strict guidelines to narrow down consumers' favorites. A four-step process is required. It starts with an extensive list of potential players in each segment of the market. During the selection process a background search is done on potential nominees, to ensure they are suitable candidates for the Best Choice Awards. The next step requires brand reputation market research for each business on the list. The data is collected and scientifically analyzed. Results are carefully tabulated and company rankings are sorted. It's at this time that potential nominees are contacted about their nomination for a Best Choice Award.
It's takes more than just customer satisfaction to excel in the awards. An interview between the Best Choice Awards rep and the business nominee is conducted. If there have been any litigation's against the business, they are examined. Years of experience are taken into account, as well as customer service procedures. The hiring criteria of employees is checked. Insurance coverage status is also examined. The business owner/operator's actual reputation is examined. The business that stands above all is awarded the "Best Choice" in its category.
The Best Choice Awards wish to instill on companies five core values of Quality and Excellence: 1. Integrity. 2. Success. 3. Commitment. 4. Business Balance. 5. Customer Specialist.
The winners were awarded their trophies at the awards ceremony held at the Crown Plaza Galleria in Ortigas, on May 7th, 2015. Celebrity guests and prominent speakers from different government and business organizations gave inspiring speeches and congratulatory messages. This popular event was covered by national media partners. Part of the proceeds of this event go towards benefiting PESOP—Philippine Events Specialist Outreach Program.
The Best Choice Awards brings these top notch businesses, brands, and service providers to the notice of the general public, providing a valued means of promotion to these enterprises. By winning a Best Choice Award, future customers will be assured of quality, customer service, trust, and knowledge from a valued award recipient.
iConnect Technologies is inspired by their second awards win two years running, and aims to continue providing an exceptional customer experience for the years ahead.
Please contact iConnect Technologies to discuss how we can help implement the best IT solutions for your small business, company, or corporate enterprise today.