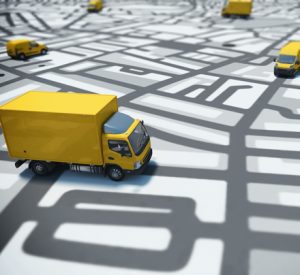 iConnect Technologies offers tracking solutions for your company to keep your devices, data, and fleet secure. The software included with these tracking devices is fully encrypted and will be hosted on your business premises, to ensure your data and employees are kept safe and secure.
iConnect Technologies offers a variety of different tracking solutions, based on your business requirements.
GPS Tracking System
A GPS tracking system utilizes the GPS–Global Positioning System–in order to find and track the precise location of a person, vehicle, or business equipment.
There are many applications for their usage. They're used for the safety of employees, patients, families, and hikers. They are also used to monitor the positioning of vehicles or equipment for management purposes, to recover lost equipment in the event of theft, and to keep operating costs reasonable so employees don't use vehicles or equipment for personal use.
GPS Tracking Device
In order to have a GPS tracking system, many different GPS tracking devices must be used. These are often small and discreet and attached to a hidden spot of the vehicle. When monitoring people, the devices are much smaller and clip onto a pocket.
GPS tracking devices can be as simple as providing a location or come with complex features to track a variety of items.
GPS Tracking Fleet
GPS tracking fleet requirements are essential for businesses that run a large fleet of cars, trucks, or other vehicles. GPS may be utilized for public transport. Vehicle trackers are the perfect solution for when you run a fleet of service vehicles, taxicab companies, vehicle rental companies, logistics, and more, as each vehicle can be tracked and monitored in real time.
GPS Vehicle Tracker
The VT Series are waterproof tracking devices that operate in real-time. They have GPS/GLONASS and GSM connectivity. There are eight different vehicle trackers to choose from. These devices will be able to discern the coordinates of a vehicle at any given time, in addition to other assigned data details. This information will be transferred through the GSM network to your company's server. These devices are waterproof should rain or snow come into contact with them.
GPS Personal Tracker
We also offer a range of PT Personal Trackers. There are five different trackers in this category, depending on personal usage. These trackers have a wide range of applications. They can be used for the safety of seniors or people in a care facility, lone workers on graveyard shifts, emergency services workers, people working in remote locations, people who are hiking in the wilderness, children, pets, and vehicles.
GPS Tracking Company Philippines
Many of these devices offer more than tracking coordinates, they can also have other features such as an emergency call assist, emergency alert, speeding or moving alert, and mileage reports.
Please contact iConnect Technologies today for more information on how GPS tracking devices can assist with the GPS tracking of your fleet or vehicles, or for the individual GPS personal tracker needs you require.