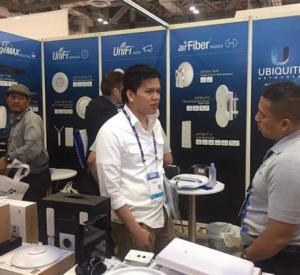 iConnect Technologies believes in providing the best and most recent technology to the small and large companies and corporations located in the Philippines. We are proud to announce that we are the authorized distributor and dealer of Ubiquiti Networks. Ubiquiti supplies a large range of broadband and enterprise products for IT departments.
Their product line encompasses everything needed for internet and communications connectivity.
airFiber Wireless Backhaul
The airFiber is a radio that works outdoors, and runs at five GHz frequency to a range of over one hundred kilometres. It features an innovative antenna design that promises to be resistant to wind and inclement weather conditions. It has a dual antenna design that provide excellent broadcasts in high-noise environments.
airMax Fixed Outdoor Wireless
The airMax works indoors and outdoors and provides access points for your customers. The airGateway will power the airMax CPE. The airMax CPE provides low cost and lightweight solutions for your applications. It works with the Bullet M, LiteBeam, and PowerBeam two way radios.
EdgeMax Carrier Routing
A variety of compact ethernet routers are available for connectivity. They come with separate ports that can be individually configured. Features may be configured on the computer, and provide easy access to a variety of advanced functions.
UniFi Enterprise WiFi
Circular WiFi devices are available to allow employee or visitor access to the internet. They provide dual radio access points and utilize the latest WiFi 802.11ac technology for high-traffic applications. They promise to be five times faster than 802.11N. They're sleek and compact for installation on the ceiling or wall. Four different models are available depending on business requirements.
UniFi Video Surveillance
UniFi video surveillance cameras are available in four different models, from compact to regular size. A network video recorder will provide secure recording of all business activity.
UniFi Scalable Internet Telephony Network
Two different state of the art VoIP telephone designs are available to provide internal and external communication. Each model utilizes a full colour touchscreen that is powered by Android, and uses Bluetooth, WiFi, and has a built-in video conferencing camera. Audio performance is exceptionally clear and interference-free. Handsets are designed ergonomically for extended usage.
UniFi Switching and Routing
UniFI security gateway routers work with Ethernet to provide secure routing for a business network. This includes controller software to enable the positioning and managing of all networks and devices in one convenient user interface. The gateway will provide secure firewall protection for all confidential business network data.
mFi Controls and Automation
There are control and automation devices available, such as the mPort, mPower, and InWall Outlet and Switch. The mPort will connect different devices together, including sensors. The InWall Outlet provides several power outlets in one, that are surge-protected. The InWall Switch installs into the wall and use as an outlet with extra power on/off rules.
Accessories
Other accessories are also available for the smooth running of a network.
Please contact iConnect Technologies to discuss your network needs, and how the Ubiquiti products can be utilized in your business.