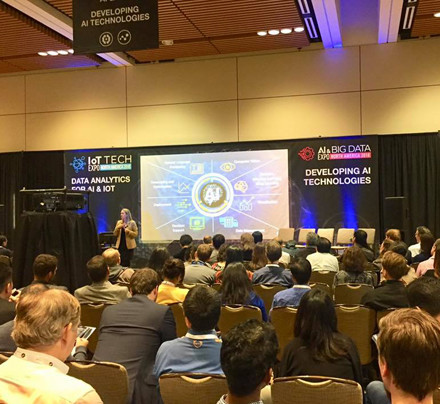 iConnect Technologies recently attended the AI and Big Data Conference Expo in Santa Clara, California, on November 28th to 29th. During the Expo our experts gained valuable information about the world of AI and data technology.
The main focus of this expo was to cover what is ahead in the digital future. Over 4000 people were in attendance, from all corners of the world. Just some of the topics covered included AI Algorithms, Autonomous Cars, Business Intelligence, Big Data, Chatbots, Computer Vision, Data & Analytics, Deep Learning, Digital Transformation, Machine Learning, Neural Networks, Speech Recognition, Virtual Assistants, and many more related topics.
These topics were covered by top-level speakers and relevant global professionals, from many of the top companies around the world. Just some of the companies represented included: Amazon, Google, IBM, Intel, LinkedIn, Lego, SAP, Toshiba, UPS, Uber, and more.
Panels For AI & Big Data Conference
There were many free panels for attendees to see, with topics on Big Data, Data Architecture, Launching a Start-up, and more. Special events were only available to Gold or Ultimate pass holders, including AI for Everyone, Creating a Data Drive Culture, and AI Powering Digital Transformation.
A special networking event was held for everyone in the evening at the Hyatt Regency Santa Clara. The evening involved fun casino entertainment.
Besides panels and talks, many of the leaders in technology also had exhibitions of their current or pending products and services. This expo was a great way to obtain brand exposure for a business or company. The exposition offered the best way to show brand exposure and provided networking and product launch opportunities. There was an opportunity for lead generation and meeting potential investors.
Many of the visitors and exhibitors were CEOs, chief data officers, technical advisors, software engineers, marketing managers, software and service providers, and more. Many of them were from Canada or the USA, with a large number from Europe and Asia.
Almost every type of industry was represented, but Enterprise and Finance were at the top of the list. The legal, healthcare, manufacturing, energy, and education industries were also strongly represented.
A special App helped to keep everyone connected to the event, and noted updates and changes to programming. All 24 conference track agendas were listed to help attendees to plan their schedules. The App also had a handy map to guide people around the event. The App also offered a networking feature too.
The AI & Big Data Conference is held once a year, in a different part of the world, and is part of an events series. The next exposition will hold in Europe in 2019, as well as a second Global expo that year. There are also other co-located conferences, including IoT Tech Expo World Series, and Blockchain Expo World Series. To date, there have been over 13,000 attendees.
If your IT infrastructure is in need of updating in 2023, please contact iConnect Technologies today. We can help all sizes of businesses or corporations stay ahead of technology, so you stay a leader in your industry.